Multiple Language Versions of Xi Jinping: The Governance of China (Vol. IV) Published
Source:
Xinhua News Agency
[Font Size:
Big
Medium
Small
]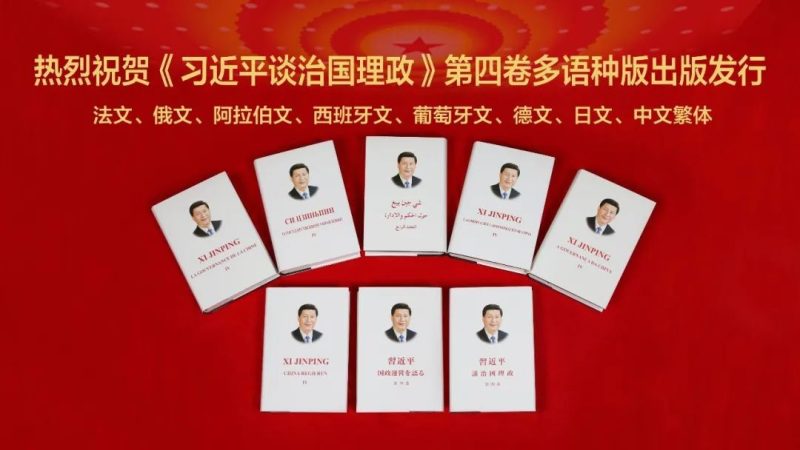 The French, Russian, Arabic, Spanish, Portuguese, German, Japanese and traditional Chinese versions of the fourth volume of Xi Jinping: The Governance of China have been published by Foreign Languages Press for global distribution.
Compiled by the Publicity Department of the CPC Central Committee and the State Council Information Office, with the support of the Research Institute of Party History and Literature of the CPC Central Committee, and China International Publishing Group, this book contains a compilation of 109 of Xi Jinping's spoken and written works from February 3, 2020 to May 10, 2022, along with 45 photographs taken since January 2020. The CPC Central Committee with Xi Jinping at its core must respond to an unprecedented level of risks and challenges, in a world that is experiencing a pandemic and a scale of change unseen in a century. It has given careful consideration to the domestic and international situation, and has succeeded in striking a balance between development and security, and between carrying out effective epidemic prevention and control and maintaining economic and social development. It has united the whole Party and the whole country and led them in building a moderately prosperous society in all respects, and is now embarking on a new journey to build China into a modern socialist country. It is making new contributions to a global community of shared future and a better world. Divided into 21 sections by topic, this book reflects China's latest experience in adapting Marxist doctrine to the Chinese context. It represents an authoritative, comprehensive, and systemic explanation of Xi Jinping Thought on Socialism with Chinese Characteristics for a New Era.
The Chinese and English versions of the book were published in July 2022, attracting a widespread and enthusiastic response around the globe. Targeting a wider audience in the international community, these multiple language versions will present the latest developments in President Xi's thinking, give readers a better understanding of how the CPC has succeeded and how it will continue to succeed in the future, and explain the development path that China has chosen and its theories of and approach to governance.