Foreign Languages Press Celebrates Its 70th Anniversary
[Font Size:
Big
Medium
Small
]
On the afternoon of August 26, Foreign Languages Press (FLP) held a meeting in Beijing to celebrate its 70th anniversary. The meeting began with a reading of President Xi Jinping's reply to a letter by five FLP foreign experts. Du Zhanyuan, the president of China International Communications Group (CICG), attended and addressed the meeting, which was hosted by CICG Vice President Lu Cairong.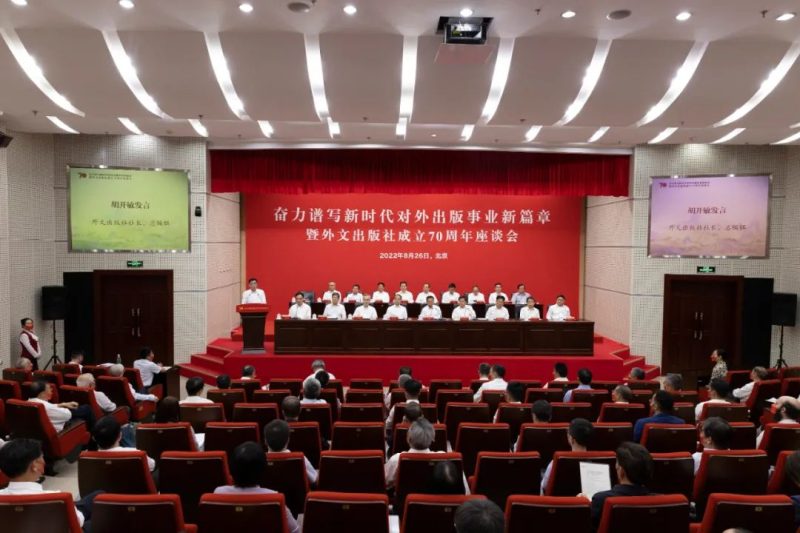 Du Zhanyuan said that FLP is China's pioneer and leader in translating and publishing books for an international audience, and has always championed this cause. It has undertaken a large number of major translation and publishing projects for the Party and the state. It has published numerous books in various languages for overseas readers to understand Chinese discourse and culture, and has become a major window for the international community to learn about China and the CPC.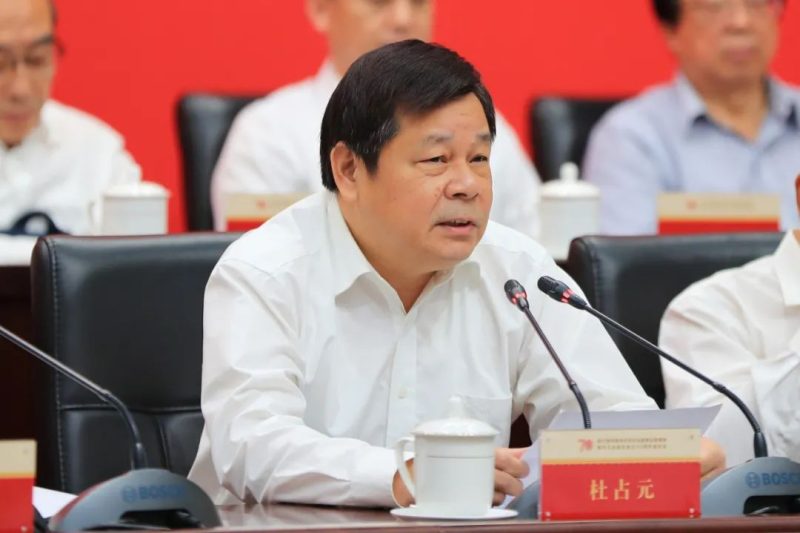 He urged CICG, and especially FLP, to publish more language editions of works of President Xi, and expand their distribution. FLP should continue to introduce and explain the Party's innovative ideas to foreign readers, and help them to better understand China's theory and practice on governance in a more accurate, comprehensive and in-depth way. It should create a discourse and narrative that is accessible to an international audience, publish more well-written and well-translated books, and present a true image of China as a country worthy of friendship, trust and respect. It should optimize its product lines, and further improve well-known book series like "Understanding China". It should understand the trends and norms of the international book market, speed up the integrated development of its product range, promote international cooperation, strengthen overseas editorial offices of China-themed books and Chinese book centers, improve a marketing system that already covers major international distribution channels, and take the lead among Chinese publishing houses in international publishing. It should give full play to the role of its foreign experts, attract and employ more translators and China experts both at home and abroad, and translate and publish more China-themed books in a systematic way, so as to increase exchanges and mutual learning between the Chinese and other world civilizations.
Leading officials from the publicity, culture and theory departments of the CPC Central Committee participated in the meeting. Approximately 100 others were present, including representatives of other publishing houses, partners, authors, translators and experts, CICG president council members, the CICG vice editor-in-chief, several retired CICG leaders, heads of departments of CICG headquarters, heads of CICG subsidiaries, FLP leadership, representatives of FLP's retired employees, foreign experts, and staff members.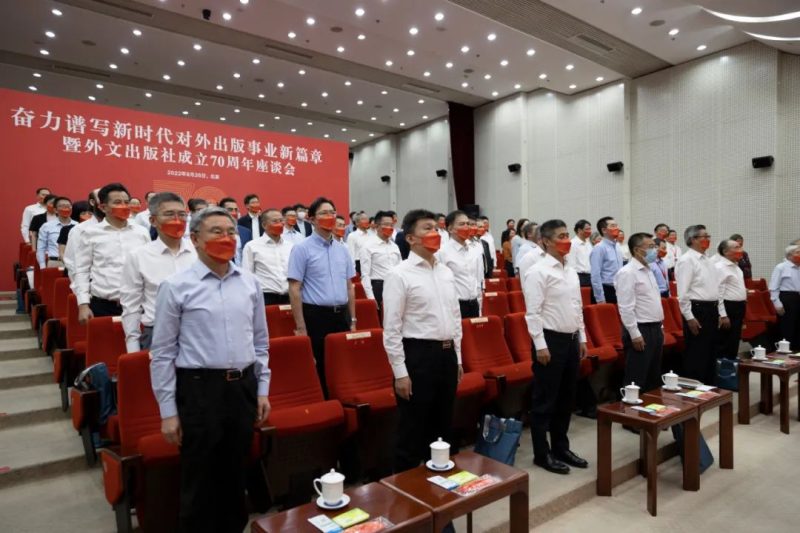 At the meeting, FLP President and Editor-in-Chief Hu Kaimin, veteran translator Xu Mingqiang, and foreign expert David Ferguson also delivered speeches.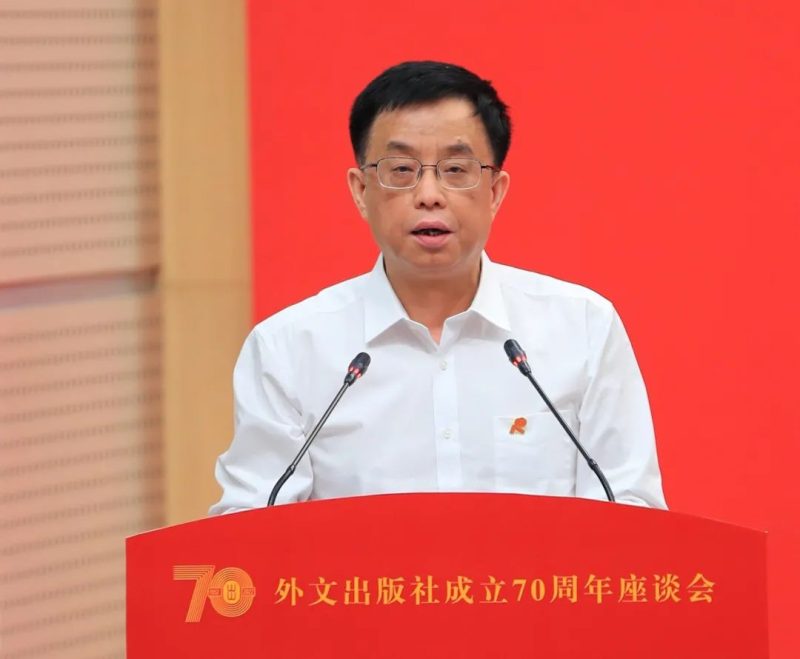 Hu Kaimin undertook to implement the spirit of the president's reply letter. He committed FLP to fulfilling its duties of translating and publishing his works and spreading his thoughts, building an important platform for cultural exchanges, giving full play to the unique role of foreign experts, telling engaging stories of China through books, and beginning a new chapter in international communication through publishing in the new era.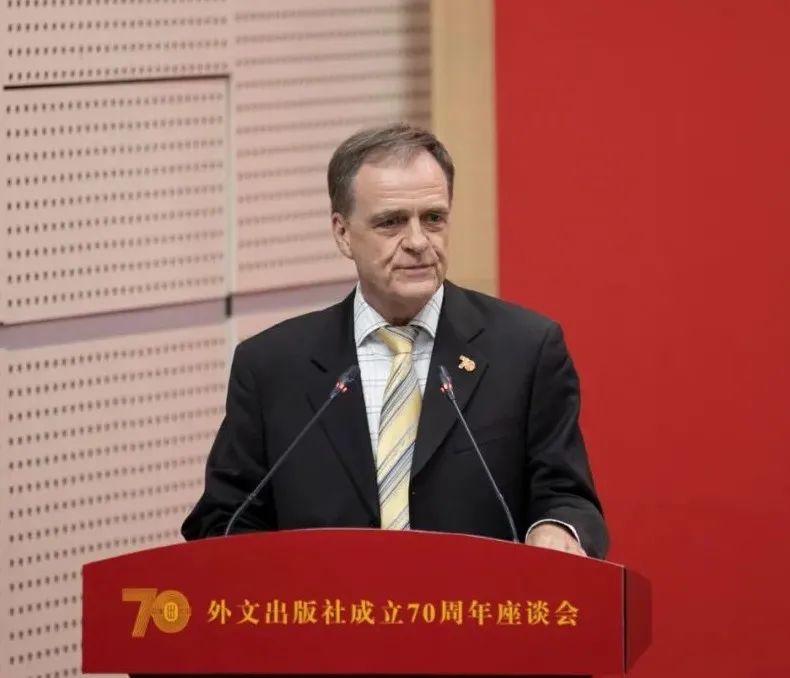 Before the meeting, Cengage Learning Asia Pte Ltd from Singapore, Truth National Political Publishing House from Vietnam, Adam Marszalek Publishing Group from Poland, the Fan Noli Publishing House from Albania, Arab Scientific Publishers from Lebanon, the China Study Center from Nepal, Neptune Publications (Private) Limited from Sri Lanka, the Pakistan-China Institute from Pakistan and other foreign publishing and cultural institutions sent congratulatory messages to FLP.
A subsidiary of CICG, FLP was the earliest translation and publishing institution in the PRC to target an international audience in a range of languages. As early as in October 1949, the International Press Bureau of the General Administration of Press under the Government Administrative Council began to publish books in foreign languages in the name of Foreign Languages Press. On July 1, 1952, Foreign Languages Press, based on the International Press Bureau, was officially established. It is now the largest publisher of its kind in China, producing books in more languages than any other publisher.
For 70 years, FLP has published a vast amount of material, including works by Chinese leaders, Party and government documents, the PRC Constitution and laws, government white papers, ancient and contemporary Chinese literary works, books on culture and social sciences, and other books on China. It has set up three pillars of its main business – translating and publishing works of Chinese leaders and Party and government literature, introducing China's development, and facilitating cultural communication.
Since the 18th CPC National Congress in 2012, as the publisher of various language editions of Xi Jinping: The Governance of China, FLP has committed itself to editing, translating, publishing, distributing, and conducting international cooperation on the works of President Xi Jinping. It plays an important role in spreading Xi Jinping Thought on Socialism with Chinese Characteristics for a New Era and in China's wider international communication.
By August 2022, the four volumes of Xi Jinping: The Governance of China had been published in 36 language editions – including 27 through international cooperation – and are now available in 170 countries and regions. It is the most influential work in the international market since China's reform and opening up in 1978.
Recently, five of FLP's foreign experts wrote a letter to President Xi Jinping to express their pride in their contribution to the translation of his works, their understanding of his thoughts, their appreciation of Chinese culture, their support for China's development philosophy, and their commitment to cultural exchanges and communication between China and the rest of the world.